India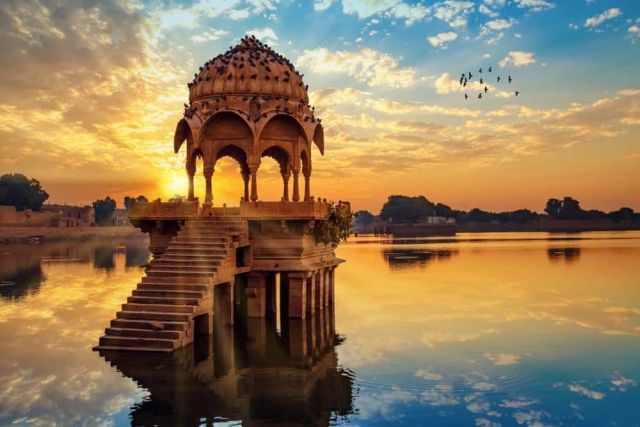 ---
---
Om-Shanti: Studie en Academie Materiaal
Boekbespreking India
---
Nine Nights of the Goddess
The Navaratri Festival in
South Asia. Suny Press 2018
Caleb Simmons, Moumita Sen, and Hillary Peter Rodrigues, eds.
This book is a diverse collection of cutting-edge interdisciplinary essays looking at the most ubiquitous festival across the Hindu world: the nine-night autumnal celebration of the Great Goddess, Durgā. This work maps manifestations of the festival across historical periods and local celebrations over the regions of West Bengal, Odisha, Karnataka, Maharashtra, Tamil Nadu, Uttar Pradesh, and Nepal. Spanning the spheres of ritual, myth, history, politics, sociology, anthropology, the essays collected herein examine both massive public events as well as private, domestic celebrations, broaching themes of Indian royal power, conquest over demonic forces, worship of young girls and married women as manifestation of the Goddess, the use of social media for festival participation.
Raj Balkaran: Audio - Podcast 005: klik hier
Western Foundations of the Caste System
Palgrave Macmillan 2017
Prakash Shah
The Indian caste system is an ancient, pervasive institution of social organization within the subcontinent - or is it? Join me as I speak with Dr. Prakash Shah (Reader in Culture and Law at the Queen Mary University of London, UK) about his co-edited work. Ranging from ancient Indian history to modern British law, the contributions to this book advance a provocative thesis, namely, that what we refer to as Indian caste is more a function of Western Christian encounters with India than anything historically occurring on Indian soil. Could this be the case? Could the caste system constitute a projection born of Western interpretive bias rather than an ancient Indian indigenous social institution?
Raj Balkaran: Audio - Podcast 007: klik hier
The Snake and The Mongoose
The Emergence of Identity in Early Indian
Religion. Oxford University Press 2018
Nathan McGovern
The history of Indian religions in the centuries leading up to the common era has been characterized in the scholarship by two distinct overarching traditions: the Brahmans (associated with Vedic texts, caste, and Vedic rituals) and the renouncer (sramana) movements we see in the Upanishads, and in Jainism and Buddhism. Were these traditions at odds with each other as "snake and mongoose" (attributed to the 2nd-century BCE Sanskrit grammarian Patañjali)? Does "Brahmanism" pre-exist this pivotal encounter, or as it in fact forged therefrom? Was there such a thing, e.g., as a Buddhist Brahman in this era? In his book Nathan McGovern draws on ancient texts to problematize the distinction between Brahman and non-Brahman in this era, shedding light on the presence of various Buddhist, Jain and Vedic groups who equally identified as Brahmans.
Raj Balkaran: Audio - Podcast 008: klik hier
In Dialogue with Classical Indian Traditions
Encounter, Transformation and
Interpretation. Routledge 2019
Chakravarthi Ram-Prasad
Why does the narrative motif of "dialogue" pervade Hindu texts? What role does it serve? Join me as I speak with the author. This volume presents 13 fascinating studies on the role of dialogue in Indian religious tradition, all of which are touched on in the interview. This book is part of a series entitled "Dialogues in South Asian Traditions: Religion, Philosophy, Literature and History."
Raj Balkaran: Audio - Podcast 011: klik hier
The Goddess and the King in Indian Myth
Ring Composition, Royal Power and the
Darmic Double Helix. Routledge 2018
Raj Balkaran
Why are myths of the Indian Great Goddess couched in a conversation between a deposed king and forest-dwelling ascetic? What happens when we examine these myths as a literary whole, frame and all? What interpretive clues might we find in their very narrative design? Join us in the "flip interview" as the author is interviewed on his new book by guest-interviewer Craig Ginn from the University of Calgary. Learn how the narrative design of Indian Great Goddess myths and the manner in which that design highlights the Goddess' association with royal power.
Raj Balkaran: Audio - Podcast 012: klik hier
The Artifice of Brahmin Masculinity in South Indian Dance
University of California Press 2019
Harshita M. Kamath
This book features an investigation of men donning a women's guises to impersonate female characters - most notably Satyabhāmā, the wife of the Hindu deity Krishna - within the insular Brahmin community of the Kuchipudi village in Telugu-speaking South India. Kamath broaches the practice of impersonation across various boundaries - village to urban, Brahmin to non-Brahmin, hegemonic to non-normative - to explore the artifice of Brahmin masculinity in contemporary South Indian dance.
Raj Balkaran: Audio - Podcast 019: klik hier
The Neighborhood of Gods
The Sacred and the Visible at the Margins of
Mumbai, University of Chicago Press 2018
William Elison
This book explores how slum residents, tribal people, and members of other marginalized groups use religious icons to mark urban spaces in Mumbai. Interestingly, not all of Elison's interview subjects identify as Hindu, which bolsters has argument that sacred space in Mumbai is created by visual and somatic practices performed across religious boundaries. Join us as we discuss this rich fieldwork in the streets, slums, and movie studios of Mumbai.
Raj Balkaran: Audio - Podcast 021: klik hier
Kingship and Polity on the Himalayan Borderland
Amsterdam University Press 2019
Arik Moran
What role did women play in securing power in colonial Himalayan kingdoms? Kingship and Polity on the Himalayan Borderland specifically documents the key roles played by women - especially queen regents - in the modern transformation of state and society in the Indian Himalaya kingdoms. Arik Moran examines three Rajput kingdoms during the transition to British rule (c. 1790-1840) and their interconnected histories and court intrigues. He draws on rich archival records, local histories, and extensive ethnographic research to offer an alternative to the popular and scholarly discourses that developed with the rise of colonial knowledge.
Raj Balkaran: Audio - Podcast 022: klik hier
Cow Care in Hindu Animal Ethics
Palgrave Macmillan 2019
Kenneth R. Valpey
What does cow care in India have to offer modern Western discourse animal ethics? Why are cows treated with such reverence in the Indian context? Valpey discusses his methodological odyssey looking at ancient Hindu scriptural accounts of cows, to modern Hindu thinkers (Gandhi, Ambedkar) on cow protection, to ethnographic work on individuals engaged in the modern Indian cow protection movement.
Raj Balkaran: Audio - Podcast 028: klik hier
Mapping the Pasupata Landscape
Narrative, Place and the Saiva Imaginary in
Early Medieval North India, Brill 2020
Elizabeth A. Cecil
This book weaves together material from the Sanskrit text Skandapurā a, physical landscapes, inscriptions, monuments, and icons to provide groundbreaking insight into the earliest known community of Siva devotees: the Pāsupatas. Through examining how the Pāsupatas were emplaced in regional Indian landscapes, this book explores issues of belonging, identity, community building and place-making in Early Medieval India.
Raj Balkaran: Audio - Podcast 034: klik hier
Devotional Sovereignty
Kingship and Religion in India
Oxford University Press 2020
Caleb Simmons
This book examines the reigns of Tipu Sultan (r. 1782-1799) and Krishnaraja Wodeyar III (r. 1799-1868) in the South Indian kingdom of Mysore to demonstrate the extent to which both rulers - one Muslim and one Hindu - turned to religion to fortify the royal identity of kings during precarious political times. Both courts revived pre-modern notions of Indian kingship in reaction to the British, drawing on devotion to Hindu gods, goddesses, and gurus to conceptualize and fortify their reigns
Raj Balkaran: Audio - Podcast 042: klik hier
Krishna's Playground
Vrindavan in the 21st Century
Oxford University Press 2020
John Stratton Hawley
This book is about a deeply beloved place-many call it the spiritual capital of India. Located at a dramatic bend in the River Yamuna, a hundred miles from the center of Delhi, Vrindavan is the spot where the god Krishna is believed to have spent his childhood and youth. For Hindus it has always stood for youth writ large-a realm of love and beauty that enables one to retreat from the weight and harshness of world. Now, though, the world is gobbling up Vrindavan. Delhi's megalopolitan sprawl inches closer day by day-half the town is a vast real-estate development and the waters of the Yamuna are too polluted to drink or even bathe in. Temples now style themselves as theme parks, and the world's tallest religious building is under construction in Krishna's pastoral paradise. What happens when the Anthropocene Age makes everything virtual? What happens when heaven gets plowed under? Like our age as a whole, Vrindavan throbs with feisty energy, but is it the religious canary in our collective coal mine?
Raj Balkaran: Audio - Podcast 044: klik hier
Guest is God
Pilgrimage, Tourism and Making Paradise
in India, Oxford University Press 2019
Drew Thomases
Thomases investigates the Indian pilgrimage town of Pushkar. While the town consists of 20,000 residents, it boasts two million visitors annually. Sacred to the creator god, Brahma, Pushkar is understood as heaven on earth - a heaven heavily marked by tourism and globalization. You can learn about the lives of the residents of Pushkar through the fascinating ethnographic fieldwork.
Raj Balkaran: Audio - Podcast 052: klik hier
Gandhi's Thought and Liberal Democracy
Lexington Books 2019
Sanjay Lal
Is religion indispensable to public life? What can Gandhi's thought contribute to the modern state? With an intense focus on both the depth and practicality of Mahatma Gandhi's political and religious thought this book reveals the valuable insights Gandhi offers to anyone concerned about the prospects of liberalism in the contemporary world. Lal makes the case that for Gandhi, in stark contrast to commonly accepted liberal orthodoxy, religion is indispensable to the public life, and indeed the official activity, of any genuinely liberal society. Gandhi scholars, political theorists, and activist members of a lay audience alike will all find much to digest, comment upon, and be motivated by in this work.
Raj Balkaran: Audio - Podcast 065: klik hier
Heroic Shaktism
The Cult of Durga in Ancient Indian
Kingship, Oxford University Press 2017
Bihani Sarkar
This book is the belief that a good king and a true warrior must worship the goddess Durga, the form and substance of kingship. This belief formed the bedrock of ancient Indian practices of cultivating political power. Wildly dangerous and serenely benevolent at one and the same time, the goddess's charismatic split nature promised rewards for a hero and king and success in risky ventures. This book is the first expansive historical treatment of the cult of Durga and the role it played in shaping ideas and rituals of heroism in India between the 3rd and the 12th centuries CE. By assessing the available epigraphic, literary and scriptural sources in Sanskrit, and anthropological studies on politics and ritual, Sarkar demonstrates that the association between Indian kingship and the cult's belief-systems was an ancient one based on efforts to augment worldly power.
Raj Balkaran: Audio - Podcast 070: klik hier
Gandhi and Rajchandra
The Making of the Mahatma
Lexington Books 2020
Uma Majmudar
This book traces the little-known yet unparalleled influence of Shrimad Rajchandra, Jain zaveri (jeweller)-cum-spiritual seeker, on Mahatma Gandhi. In examining original Gujarati writings of both Gandhi and Rajchandra, Majmudar explores their deeply formative relationship, unfolding the unique impact of Rajchandra's teachings and contributions upon Gandhi. Through careful examination of the contents and significance of their intimate spiritual discussions, letters, questions and answers, the book illuminates the role of the man who became Gandhi's most trusted friend, exemplar, mentor and refuge.
Raj Balkaran: Audio - Podcast 073: klik hier
Bollywood Horrors
Religion, Violence and Cinematic Fears
in India, Bloomsbury Academic 2020
Ellen Goldberg, Aditi Sen and Brian Collins
This is a multi-faceted and wide-ranging collection that examines cinematic representations of real-life horror, the religious aspects of horror imagery and themes, and the ways in which Hindi films have projected "cinematic fears" onto the screen. Part I, "Atrocity", deals with Bollywood's representation of the real horrors of communal violence, rape culture, and human trafficking. In Part II ("Religion") the role of myth, ritual, and colonial constructions in producing the generic conventions of Hindi horror are discussed. Contributors focus on the stereotype of the tantric magician found in Indian literature beginning in the medieval period; the myth of the fearsome goddess Durga's slaying of the Buffalo Demon; and the surprising role of religion in the importation of Gothic tropes into Indian films, told through the little-known story of Sir Devendra Prasad Varma. The final part - "Cinematic Fears" - explores three particular facets or exemplars of Bollywood horror: the 2002 film Raaz, the role of non-domestic haunted or uncanny spaces in Hindi cinema, and the aesthetics of film posters and song booklets advertising horror films.
Raj Balkaran: Audio - Podcast 074: klik hier
Land of the Golden River
The Medieval Tamil Folk Epic of
Ponnivala Nadu, Friesen Press 2021
Brenda Beck
This podcast features Beck's lifelong work on the Tamil folk epic Ponnivala. In addition to her forthcoming new English translation of the epic ("Land of the Golden River"), we also discuss her 1982 study of the epic The Three Twins, her full color graphic novel of the epic (available in Tamil and English), and her 13-hour animated video of the epic. The interview discusses the significance of folks traditions in understanding Indian religions, along with the power of narrative to encapsulate religious themes.
Raj Balkaran: Audio - Podcast 109: klik hier
Shared Devotion, Shared Food
Equality and the Bakti-Caste Question in
Western India, Oxford University Press 2021
Jon Keune
This book is about the deceptively simple question: when Hindu devotional or bhakti traditions welcomed marginalized people - women, low castes, and Dalits - were they promoting social equality? This the modern formulation of the bhakti-caste question. It is what Dalit leader B.R. Ambedkar had in mind when he concluded that the saints promoted spiritual equality but did not transform society. While taking Ambedkar's judgment seriously, when viewed in the context of intellectual history and social practice, the bhakti-caste question is more complex. This book dives deeply in Marathi sources to explore how one tradition in western India worked out the relationship between bhakti and caste on its own terms. Food and eating together were central to this. As stories about saints and food changed while moving across manuscripts, theatrical plays, and films, the bhakti-caste relationship went from being a strategically ambiguous riddle to a question that expected-and received-answers. The book demonstrates the value of critical commensality to understand how people carefully negotiate their ethical ideals with social practices. Food's capacity to symbolize many things made it an ideal site for debating bhakti's implications about caste differences. In the Vārkarītradition, strategically deployed ambiguity and the resonating of stories across media over time developed an ideology of inclusive difference-not social equality in the modern sense, but an alternative holistic view of society.
Raj Balkaran: Audio - Podcast 119: klik hier
Feeding a Thousand Souls
Women, Ritual and Ecology in India - an Exploration
of the Kolam, Oxford University Press 2018
Vijaya Nagarajan
Every day millions of Tamil women in southeast India wake up before dawn to create a kolam, an ephemeral ritual design made with rice flour, on the thresholds of homes, businesses and temples. This thousand-year-old ritual welcomes and honors Lakshmi, the goddess of wealth and alertness, and Bhudevi, the goddess of the earth. Created by hand with great skill, artistry, and mathematical precision, the kolam disappears in a few hours, borne away by passing footsteps and hungry insects. This is the first comprehensive study of the kolam in the English language. It examines its significance in historical, mathematical, ecological, anthropological, and literary contexts. The culmination of Nagarajan's many years of research and writing on this exacting ritual practice, celebrates the experiences, thoughts, and voices of the Tamil women who keep this tradition alive.
Raj Balkaran: Audio - Podcast 136: klik hier
Women, Religion and the Body in South Asia
Living with Bengali Bauls
Routledge 2020
Kristin Hanssen
Noted for their haunting melodies and enigmatic lyrics, Bauls have been portrayed as spiritually enlightened troubadours traveling around the countryside in West Bengal in India and in Bangladesh. As emblems of Bengali culture, Bauls have long been a subject of scholarly debates which center on their esoteric practices, and middle class imaginaries of the category Baul. Adding to this literature, the intimate ethnography presented in this book recounts the life stories of members from a single family, shining light on their past and present tribulations bound up with being poor and of a lowly caste. It shows that taking up the Baul path is a means of softening the stigma of their lower caste identity in that religious practice, where women play a key role, renders the body pure. The path is also a source of monetary income in that begging is considered part of their vocation. For women, the Baul path has the added implication of lessening constraints of gender. While the book describes a family of singers, it also portrays the wider society in which they live, showing how their lives connect and interlace with other villagers, a theme not previously explored in literature on Bauls.
Raj Balkaran: Audio - Podcast 141: klik hier
Turbulent Transformations
Non-Brahmin Srivaisnavas on Religion, Caste and
Politics in Tamil Nadu, Orient Blackswan 2021
Katherine Young
The author studies the interlinking of religious, social and political identities in modern Tamil Nadu. Through interviews with non-Brahmin Srivaisnavas of many castes, but especially belonging to the lower-caste groups, it analyses their histories of discrimination, their negotiation of lived realities, and hopes for the future. In addition, the author also addresses colonial changes, Telugu connections, the non-Brahmin movement, Dalit mobilisation, post-Independence caste hierarchies, government policies, party politics, Brahmin reactions, court cases, and inter-religious competition.
Raj Balkaran: Audio - Podcast 156: klik hier
False Allies
India's Maharajahs in the Age of
Ravi Varma, Juggernauth 2021
Manu S. Pillai
India's maharajahs have traditionally been cast as petty despots, consumed by lust and luxury. Bejewelled parasites, they cared more, we are told, for elephants and palaces than for schools and public works. The British cheerfully circulated the idea that brown royalty needed "enlighten" white hands to guide it, and by the twentieth century many Indians too bought into the stereotype, viewing princely India as packed with imperial stooges. Indeed, even today the princes are either remembered with frothy nostalgia or dismissed as greedy fools, with no role in the making of contemporary India. In this book disputes this view. Tracking the travels of the iconic painter Ravi Varma through five princely states - from the 1860s to the early 1900s - he uncovers a picture far removed from the clichés in which the princes are trapped. The world we discover is not of dancing girls, but of sedition, legal battles, the defiance of imperial dictates, and resistance. By refocusing attention on princely India, False Allies takes us on an unforgettable journey and reminds us that the maharajahs were serious political actors - essential to knowing modern India.
Raj Balkaran: Audio - Podcast 158: klik hier
Christianity in India
The Anti-Colonial Turn
Routledge 2020
Clara A. B. Joseph
By studying the history and sources of the Thomas Christians of India, a community of pre-colonial Christian heritage, this book revisits the assumption that Christianity is Western and colonial and that Christians in the non-West are products of colonial and post-colonial missionaries. Christians in the East have had a difficult time getting heard - let alone understood as anti-colonial. This is a problem, especially in studies on India, where the focus has typically been on North India and British colonialism and its impact in the era of globalization. This book takes up South India and the impact of Portuguese colonialism in both the early modern and contemporary period. It will be of interest to academics in the fields of Renaissance/Early Modern Studies, Postcolonial Studies, Religious Studies, Christianity, and South Asia.
Raj Balkaran: Audio - Podcast 161: klik hier
Elusive Nonviolence
The Making and Unmaking of Gandhi's Religion
of Ahimsa, New Books Network 2021
Jyotirmaya Sharma
The author argues that Gandhi acknowledged the absence of any serious tradition of non-violence in India. His uncompromising insistence on ahimsa, then, was a way of introducing non-violence as an Indian value by fabricating a tradition around it. Gandhi offered a unique interpretation of Hindu texts and philosophical practice while engaging with certain strands of European and American intellectual traditions.
Raj Balkaran: Audio - Podcast 164: klik hier
Neha Sahgal on the Pew Study "Religion in India"
Tolerance and Segregation
New Books Network 2022
Neha Sahgal
The author speaks of Pew's ground-breaking research on Indian public opinion on religion. The data shows that Indians maintain a commitment to religious tolerance while also living highly religiously segregated lives. The survey report explores these themes in greater detail along with Indians' attitudes about caste, religious observance, and a variety of other social and political issues.
Raj Balkaran: Audio - Podcast 171: klik hier
---
---
Website Overzicht: klik hier Boven: klik hier Home: klik hier